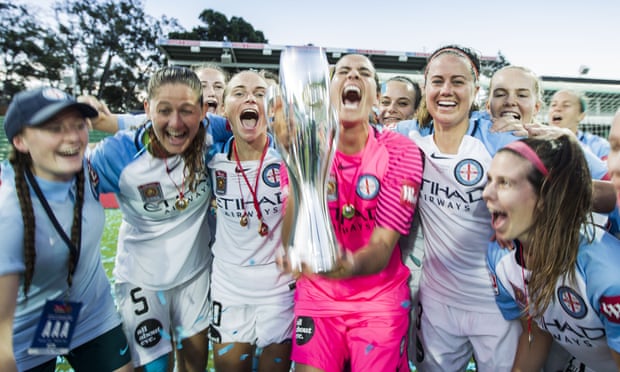 Now, because the competition nears its halfway point, Western Sydney have recorded their best-ever start to a W-League season. they continue to be undefeated with the simplest goal difference and therefore the equal-fewest goals conceded of any team within the league. And there's perhaps no greater symbol of the Wanderers' supremacy — nor of the uncanny repetition of history — than last Friday's 5-0 demolition of cross-town rivals Sydney FC, a club they'd only ever defeated once in 14 previous meetings.
But Western Sydney's dominant performance against Sydney, like Melbourne City's in their first-ever game, wasn't a coincidence: it had been the results of a club which has begun to require its women's program seriously, with a concerted recruitment plan, attractive player salaries, world-class training facilities and resources, and therefore the development of a tight-knit, hard-working culture that binds players and staff together. It's perhaps no surprise, then, that the sole other team in Western Sydney's wheelhouse this season is Melbourne City. maxbetsbobet agen sbobet online
Two clubs, two vastly different histories, but two parallel approaches to the W-League: both have recognised that the short season length requires a team ready to hit the bottom running; this has translated into squads stocked international and club chemistry, like City's Matildas-heavy starting XI or Western Sydney's North Carolina Courage coup. This thoughtful player recruitment has been complemented by a beautiful playing style: organised, disciplined, and clear in each player's roles and responsibilities.
But what most clearly ties these two clubs together is that the environment during which they work. Both clubs now boast top-class training facilities with dedicated spaces for his or her women's teams. And treating female footballers as professionals by providing them with the resources they have has had clear and immediate impacts on the sector. Spaces just like the much-lauded facilities of City and therefore the Wanderers illustrate that old saying about the difference between men's and women's football: men got to win to feel good, women got to feel good to win.
Women's football is entering a replacement era, and it requires quite an adjustment to the football that happens on the sector. More importantly, perhaps, it requires a shift in what we should always expect from football clubs generally; from accepting things as they're to a push for a way things might be. That a separate changing room was singled bent me by four separate people at the Wanderers — including players, coaches, and therefore the chief executive — demonstrated how little women's teams in Australia have had to figure with within the past.
It's not enough to accept how the women's game has always been organised, funded, marketed, or discussed within the media; to easily coast along, hoping something gives without giving thereto first. Because recognising and investing within the enormous growth potential of women's football isn't just good symbolism — it's also good business. because the game continues to grow in exposure and recognition, more investment will naturally follow. Teams like Melbourne City and Western Sydney have already begun to light the trail forward, dragging the women's game towards a replacement, necessary dawn. the earlier other clubs start to recognise it and imitate, the earlier the sport will flourish.